Kwalifikacje EPC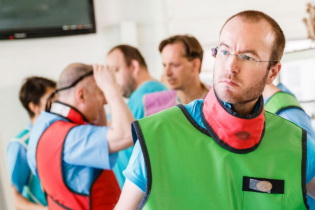 Wszystkie placówki EuroPainClinics® mają długoletnią i bogatą tradycję z doskonałymi rezultatami w dziedzinie leczenia interwencyjnego bólu oraz opieki klinicznej za znaczącą przyczyną nieustannie rozwijającej się działalności badawczej i naukowej.
Kwalifikacja zespołów profesjonalnych
Lekarze w EuroPainClinics® to doświadczeni specjaliści w leczeniu bólu, którzy zobowiązali się do doskonalenia leczenia bólu przez zrozumienie patofizjologii choroby i połączenie badań z praktyką kliniczną.
Nasze zespoły tworzą lekarze z dziedzin algezjologii, anestezjologii i medycyny intensywnej, ortopedii, neurologii, neurochirurgii i innych dziedzin, z długoletnią praktyką kliniczną oraz doświadczeniami z zagranicy i wyspecjalizowane pielęgniarki. Mamy długoletnią współpracę z ekspertami z zagranicy, renomowanymi specjalistami np. w dziedzinach reumatologii lub chirurgii kręgosłupa.
Jako eksperci w leczeniu bólu zapewniamy kompleksowe leczenie interwencyjne poprzez nowoczesne małoinwazyjne i zaawansowane zabiegi endoskopowe łącznie z usługą "Ocena MRI za darmo – druga opinia specjalisty", niezależnej oceny wyników badań MRI przez drugiego lekarza specjalistę.
Rada kliniczna
Wysoki poziom oferowanej opieki wyspecjalizowanej nieustannie nadzoruje Rada kliniczna złożona z renomowanych specjalistów międzynarodowych w leczeniu bólu z Wielkiej Brytanii, Szwecji i Republiki Czeskiej.
FIPP
Jako EuroPainClinics® mamy zaszczyt bycia częścią światowej algezjologii interwencyjnej za pośrednictwem instytutu World Institute of Pain (WIP), który wraz ze swoją komisją kontrolną FIPP administruje psychometrycznie rozwinięte egzaminy w dziedzinie leczenia bólu. Lekarze, którzy z powodzeniem zakończą wymagający proces egzaminów zdobędą certyfikat z dziedziny interwencyjnych metod leczenia bólu wraz z tytułem FIPP (Fellow of Interventional Pain Practise), który uprawnia ich do wykonywania działalności w dziedzinie interwencyjnego leczenia bólu na całym świecie. Lista certyfikowanych lekarzy jest do dyspozycji organizacjom lekarskim i do ogółu społeczeństwa.
Powołaniem World Institute of Pain, niezależnej organizacji non-profit to ochrona społeczeństwa i informowanie o poprawie jakości i dostępności technik interwencyjnych w leczeniu bólu.
Posiadaczem międzynarodowego certyfikatu FIPP – na chwilę obecną jako jedyny lekarz w Republice Czeskiej i w Słowacji, jest MUDr. Róbert Rapčan, FIPP, Medical Director EuroPainClinics®, który został w maju 2016 r. mianowany na prestiżową pozycję FIPP Examiner – egzaminator międzynarodowych egzaminów FIPP.
Działania edukacyjne
EuroPainClinics® od początku powstania buduje silną tradycję działań edukacyjnych. Konferencje specjalistyczne, kursy i warsztaty są przeznaczone nie tylko dla specjalistów dziedzin powiązanych z leczeniem bólu, ale praktycznie dla wszystkich lekarzy, którzy napotykają na problematykę bólu u swoich pacjentów w codziennej praktyce. Działania specjalistyczne organizowane są na bazie krajowej i międzynarodowej z uczestnictwem zagranicznych instruktorów i speakerów.
Badania kliniczne EuroPainClinics®
Badania kliniczne to dowód na innowacyjne podejście EuroPainClinics® w dziedzinie interwencyjnego leczenia bólu. Na chwilę obecną odbywa się 5 aktywnych badań dotyczących metod leczenia PRT, Epiduroskopii, Disc FX, Odnerwienie stawów międzywyrostkowych z użyciem prądu o częstotliwości radiowej i Discektomii endoskopowej. Wszystkie badania rejestrowane są w międzynarodowej bazie rejestracyjnej ClinicalTrials.gov RS, U.S. National Institutes of Health i odbywają się w 7 placówkach w Republice Czeskiej i w Słowacji. Więcej o badaniach klinicznych
Placówki EuroPainClinics®
Sieć placówek interwencyjnego leczenia bólu w przeciągu lat bardzo szybko się rozrasta.
Oddział w Pradze powstał w październiku 2013 r. i jest aktualnie jedynym miejscem w Republice Czeskiej, gdzie przeprowadzane są małoinwazyjne zabiegi według platformy wiedzy EuroPainClinics®. W Słowacji działa placówka w Bardejowie, która oferuje usługi już od 2009 r. (w ramach R-Clinic). Od listopada 2014 r. EuroPainClinics® jest profesjonalnym gwarantem opieki zdrowotnej świadczonej przez poliklinikę Terasa w Koszycach. Na początku 2015 r. w Bratysławie zostało otwarte specjalistyczne ambulatorium leczenia bólu.
Współpracujące placówki kliniczne EPC obecnie znajdują się w nadmorskim mieście Split (Chorwacja), w Monachium, Londynie, i Umeå (Szwecja). Ta wąska współpraca z europejskimi placówkami znacząco podwyższa wydajność leczenia bólu, diagnostyki i badań z wykorzystaniem platformy wiedzy EuroPainClinics®, co umożliwia pacjentom szybki i powszechny dostęp do nowoczesnych metod leczenia bólu.